All construction information centrally in one cloud
The next exciting company we will be presenting as part of our "Digital Tools" series is openHandwerk. The company has developed a software solution that networks all those involved in construction in a cloud and makes the transfer of information efficient.
Which problem does openHandwerk solve?
openHandwerk is a cloud-based software that supports crafts enterprises, construction companies and service companies in designing efficient processes. Building and craft enterprises are often still at the beginning of digitalisation. In addition, they have full order books and a continuing shortage of skilled workers. Companies must therefore increase their efficiency and plan their resources in the office and on the construction site better. General contractors are also increasingly using the cloud solution if they want to organise their trades centrally via openHandwerk.
openHandwerk serves the process from trade to business. The company focuses on the following target groups in the respective construction phases:
The efficient cloud solution
The company offers project planning, resource management, construction documentation and complete accounting in a single solution. By working in the cloud and the corresponding app, companies can work more efficiently and without data breaks. The cloud solution creates processes and enables automated communication with the end customer. Recurring work for office employees is thus a thing of the past. All operative work processes can be controlled and documented from one solution.
Creating added value by networking different solutions
openHandwerk is more than just a craftsman or construction software in a cloud. Due to numerous interfaces for the trades and construction sector, the company itself speaks of a MultiCloud. There are already some isolated solutions on the market that have a right to exist – but the added value is only created by networking the solutions. The MultiCloud from openHandwerk offers a networked solution through enterprise resource planning. Furthermore, orders can be put into a status and are therefore transparent for all parties involved. A detailed order history always shows the current status of the construction site.
The software can be loaded with information from anywhere. From the office, on the road with a tablet or very conveniently with a smartphone via the openHandwerk construction site app. Whether construction diaries, measurement chains, measurement reports with e-signatures, defect documentation or supplements via chat – everything ends up centrally in one system and is assigned to the appropriate order.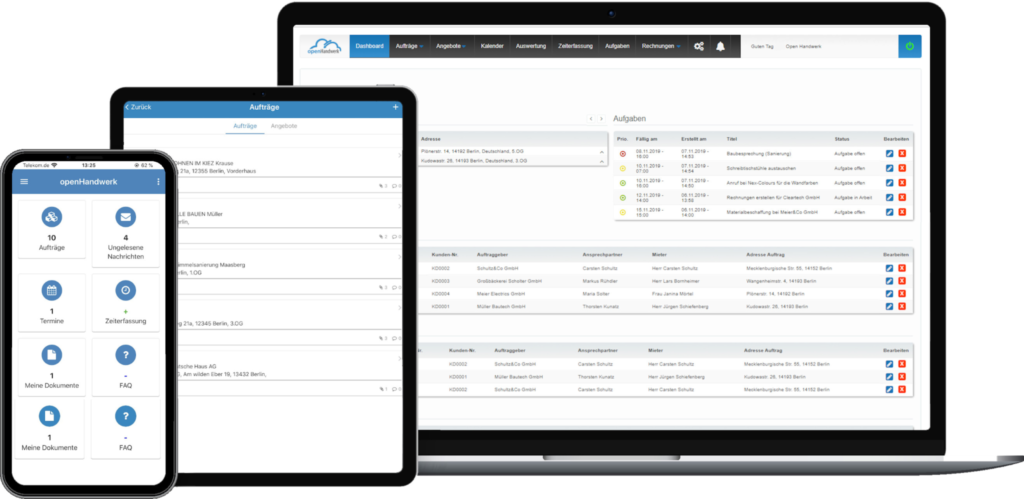 In-house development
The managing director of openHandwerk is himself the owner of a craftsman's business, which is used throughout Germany for the housing industry. About three years ago, he was at the same point where many companies from the craft and construction sectors are located today. The company had too many orders and did not get enough craftsmen on the market. Furthermore, there were only classic solutions for accounting, but no process solutions for order management or document management. In addition, location-independent working was important at that time, so that only a cloud solution came into question. Based on the demand, a solution was built in a cloud on our own initiative. Since then, the cloud has been continuously developed to create further added value for customers, whether through new functions or new cooperation partners. In the future, the company sees itself as a platform in which craft businesses, construction companies and the housing industry as well as manufacturers and retailers can participate. Developing platforms is cost-intensive. "We are currently in the process of on-boarding manufacturers and dealers in our solution to map customer journeys and support them in the area of data-driven sales, which makes the proximity to Plan.One exciting," says the openHandwerk team.
The construction industry today and in 10 years
Large construction market players in Germany are certainly digital, but not yet at the level they could be. However, small to medium-sized companies are finding it difficult to do so. They are often trapped in various software solutions that are not scalable in terms of business and do not add enough value. Construction companies are beginning to open up to the cloud and are placing more emphasis on processes. In the next ten years, building materials and products will be sold through services and the construction industry will be much more efficient and digital. Developments and pioneers can already be seen in other countries. Construction companies must be careful not to miss out on this trend. Cloud solutions and process-oriented solutions will be standard in the future. In addition to software, a wide range of services will make building easier for everyone involved.
#digitisingcloth – tips from openHandwerk
Which sector can the construction industry learn from?
We would like to break this down less into an industry. What we find more exciting is the approach of how disruptive innovators can change entire industries and put pressure on or displace long-established market participants. Now comes the learning effect: in other industries, too, people thought nothing would happen. If the construction industry is not careful, other digital competitors will gain market share.
Where do you see the greatest pent-up demand for the construction industry?
In this country, many market participants lack the necessary digital DNA. This creates added value, especially in cooperation with start-ups. Whether platform, tradesmen/construction software or isolated solutions – startups think differently, move faster and can lead corporates to their goals more quickly. Construction companies, manufacturers or building material dealers who recognise this for themselves can create clear competitive advantages. Digital customer journeys, data-driven sales support and more efficient construction are just the beginning. Often, however, risks are weighed up here rather than seizing opportunities. This is where we would like to see more willingness to take risks in the future in order to change. We believe that other countries are much further ahead. What is x% of sales or profit in relation to the long-term position of the company?
Which quotation would you like to give to the building industry?
"Digitisation is a means to an end". – openHandwerk
Further information on openHandwerk can be found here.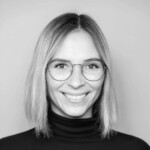 Celine Brand
Content marketing manager and social media expert for the construction industry.