Taking new paths: Individual BIM services as a business model
Taking a chance on something new means showing courage and leaving well-worn paths behind. If you are a young architecture firm and new to the planning industry and base your entire business model on BIM, you are demonstrating great courage. After all, the digital planning method is by no means established, and the associated processes are far from familiar to everyone. JSB Architekten from Stuttgart have been on the market for a good four years. In this manageable time, they have been able to realise a large number of projects. Digital tools and online platforms, building product databases and BIM planning information have accompanied them since the first service launch in 2016 in their office at the time.
The second lockdown is imminent as we talk to Sirri El Jundi, one of the three partners of JSB Architekten. Virtually, of course: he is sitting in the office in Stuttgart, in the new meeting room: "We recently moved, the old office was bursting at the seams. Things are going very well and we have many good orders," Sirri explains. But these projects also need to be worked on. "We are always looking for good colleagues. The market for talent is competitive, sure. Nevertheless, we have also been able to attract talent again and again in recent years, which is certainly also due to the fact that we stand for digital, model-based planning and work very progressively as well as efficiently."
"We are attractive to those who have no desire for standard work and 2D planning in a conventionally working architectural office."
Sirri El Jundi, office partner and co-founder at JSB Architekten, Stuttgart
The use of digital planning methods, and not only BIM, is not only a means to an end, but also an important differentiation from conventionally working architect colleagues. As the three partners founded their new office in 2016, they immediately set up the internal workflows for planning and office organisation digitally. The continuous process optimisation accompanies JSB until today. It primarily concerns the project-related processes and continues with the continuously adapted template file for the BIM planning programme Archicad (important for exact building modelling) or the process development in the cooperation with external planning partners and clients.
JSB Architects is still involved in process optimisation today.
JSB architects are specialists who offer their individual planning support mostly after the building permit planning, i.e. with service phase 5. The JSB partners still see this as an important market advantage a good four years after the office was founded and thus occupy a gap in the market to this day. They work with architects throughout Germany, who commission them for BIM implementation planning or overall BIM coordination. In addition, there are various medium-sized construction companies and larger project developers who rely on their comprehensive know-how.
"We give our colleagues back valuable time with our work, which they can put into new, creative design tasks."
Sirri El Jundi, office partner and co-founder at JSB Architekten, Stuttgart
If you talk to Sirri about planning work on a specific project, he always emphasises the importance of the underlying processes. A lot of time is invested continuously and on a daily basis in the constant optimisation of the BIM modelling, the project processes and in the coordination of the various specialist planning involved. Sirri El Jundi: "We make our contribution to good architecture. And not only because our BIM planning minimises the potential for errors and saves costs. With our work, we give our colleagues valuable time back, which they can put into new and creative design tasks."
"BIM construction product databases such as Plan.One,
will continue to gain in importance. I am sure about that."
Sirri El Jundi, office partner and co-founder at JSB Architekten, Stuttgart
The digital tools used at JSB are diverse. In addition to the excessively used and fully developed BIM planning software, various visualisation tools, software for rule-based quality control and various solutions for project management are in daily use. Building product databases such as Plan.One also find their place. The quality of the BIM data sets that are available plays a major role here. Sirri El Jundi: "BIM building product databases like Plan.One will continue to gain in importance. The abundance of building products on the market and the available digital component data sets can no longer be kept track of by the individual. BIM building product databases provide data sets on individual building products. Ideally, these data sets are so good that the components can be used in the project file – this saves time."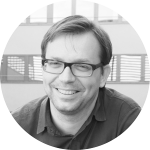 Tim Westphal
Author and industry expert, specialising in architectural journalism on topics requiring explanation and complex building stories.