Georg Stampfl identifies four advantages of a start-up spin-off from a company:
1. Access to talent: Finding entrepreneurial, digital talent is becoming increasingly difficult. We are currently in an employee market. The demands on employers are very high. So what is the goal, the reason why I should work there; what does a company offer me besides the salary?
2. Speed: A new product, service or business model can be developed and tested much faster. Nowadays speed is more important than company size – so "Speed is the new scale".
3. Risk reduction: The reputation of my brand remains intact, even if the project fails. Projects with no chance of success are quickly terminated without burning money unnecessarily.
4. The possibility to combine the best of both worlds: In other words, financial resources, existing distribution channels, customer access and market presence of the parent company are combined with the speed and agility of a start-up environment.
High reject rate – high probability of success
Not every idea that companies come up with at Georg Stampfl has what he calls "venture" potential: "But WallWorks drastically increases the probability of success. We want to establish two or three ventures in the coming months. These must then be successful. The ratio is about 1 %. That means that with 300 suggestions and ideas, there are three that actually have the potential for a successful spin-off.
To be successful in the construction industry, a Company Builder must combine two essential factors. In the B2B sector, the industry focus is elementary. Only through this specialization and deepening in a specific area can the necessary expertise be built up. The second point is the entrepreneurial experience, says Georg Stampfl: "That was a gross mistake of the first Company Builder. Inexperienced people were put on it. What is needed, however, are experienced employees, seniors, a good mix of people with extensive industry-specific expertise and people with experience in building new companies. The focus is clearly on the product. We relieve the teams of issues such as administration and recruiting and create access to corporate and investment partners. This allows our teams to concentrate fully on product development. The financing is secure and there is always a potential exit scenario, e.g. for one of the corporate partners in the project".
Your own success is measured by the success of the start-ups
Company Building is already developing in many areas and shows above-average Success rates. The construction sector is now entering the scene and company builders like WallWorks and Georg Stampfl will have a lot of work to do in the foreseeable future. Nevertheless, their business and the competition is tough: "Our success is always measured by the success of the start-ups we develop over the first three years. We are still quite new in the market and have defined a main goal for the next twelve months: to start the first promising projects and continue to build a good partner portfolio. We are already working on two projects at an early stage. And then there is, so to speak, a sub-target. We need talent at WallWorks. We want to be highly attractive to talented people. It's the same as in the construction industry: It's not just the tools we use, it's who operates them!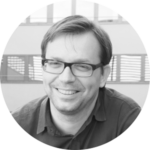 Tim Westphal
Author and industry expert, specialising in architectural journalism on topics requiring explanation and complex building stories.