Integrated sun protection defies environmental influences
Summertime. The sun is shining. When the blinds are lowered and the lights are switched on, it seems only logical to do so. Otherwise it gets too warm inside and you are blinded by the sun. Yet, from an ecological and economic standpoint it does not really make sense. Artificial lighting is used, rather than natural daylight, which thus increases electricity consumption and radiates additional heat.

Solar shading as a key to success for energy efficiency
Glass allows rooms to be flooded with light, embodies elegance and transparency and is therefore one of the most popular building materials among architects. As beautiful as large glazing spaces are – especially in summer they harbour the risk of overheating, which is increased by climate change. Comfortable room temperatures are needed when using a building. However, on average three times as much energy is required to cool a room as opposed to heat it up.
Targeted sun protection that controls daylight appropriately is therefore also important in terms of sustainability: wichtig.To reduce the energy demand of buildings the energy for lighting should be largely covered by natural daylight. This contributes to a better-balanced lighting energy according to DIN V 18599-4.
Wide range of shading options
Variable systems that direct the solar radiation, especially at the workplace and in public buildings, are becoming increasingly important. There are numerous options for the classic external sun protection,which reduces the amount of UV irradiation entering the building and the following heating of the space inside. In addition to that, it is possible to install sun protection directly in the space between the panes of insulating glass units and has been for about 20 years. This offers a decisive advantage: integrated systems are not affected by weather, so cleaning and maintenance are just as dispensable as wind monitors or further protective measures.
Most manufacturers of windows, facades and glass elements offer product choices with integrated shading nowadays. There is also a variety of designs to choose from for every taste, just like with conventional external sun protection. Blinds, curtains or grid structures for the integration inside the cavity are available in many different colours and shapes. Not only for classic facade elements made of glass and windows, they are also used for glass roofs and partition wall glazing.
Requirements for trouble-free operation
To ensure the smooth operation of integrated shading systems over a long period of time, the proper application area, as well as its limits, must be clarified in advance. Consequently, a higher product quality and usability, especially due to higher temperature loads, are demanded. According to the ift Rosenheim the most important criteria for assessing the usability consist in ensuring the gas-tightness of the edge seal, avoiding moisture absorption of the edge seal, preventing fogging and the long-term functionality of the installation. The ift-guideline VE-07/3 – Insulating glass unit with movable sun protection systems integrated in the cavity was first published in 2005 and was last updated in 2018.

Protection against all weather conditions

Currently the best existing product version can be found in a triple insulating glass with integrated sun protection in the outer and thermal spacers in the inner cavity. This achieves low g-values (< 0.2 %) and U-values. Integrated shading systems can be operated via remote control or smart phone and solar-powered technologies are also available. It is recommended to option for an automated system using sensors so that the position of slats and therefore the lighting conditions can be adjusted on its own.
The surrounding glass panes do not only protect the systems from weather influences such as wind and related noise, hail, dust and dirt. It also eliminates problems with insects and damage due to carelessness or vandalism.
Better in front of or inside the window?
espite the obvious advantages, opinions on integrated shading are divided. Costs and implementation often scare off potential builders. Especially the high complexity stemming from the composition of the individual elements can lead to problems if something was overlooked during the planning phase. General initial scepticism, fear of the whole window needing replacement or previous bad experiences lead to a tendency to fall back on the established external sun protection systems. Nonetheless, as the relevance of shading systems keeps on increasing, this could change soon. Integrated systems are already a good solution for refurbishments when retrofitting with external systems is not possible. They are therefore often used for renovating listed buildings.
Regarding the significance of sustainability, it is to be expected that there will be further developments. It remains to be seen whether integrated sun protection will make it from niche solution to standard.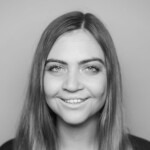 Pia Gottszky
Author and journalism expert with a focus on architectural topics in a social context.