Light. Curved. Functionalized: Innovative thin glass for novel architectures.
It is impossible to imagine modern architecture without glass building envelopes. Although glass architecture stands for lightness and transparency, the large-format window and facade elements required are anything but light. One novel material that holds great promise for glass architecture in this regard is thin glass. The ultra-thin glass offers enormous strength, high flexibility and extraordinary application possibilities for architecture. Currently, various research teams at universities are working on the further technical and design development and integration of thin glass in architectural applications. But manufacturers are also conducting research in their own development departments and already offer thin glass systems and elements, some of which are fully developed.
Flexibility of thin glass. Photo: Institute for Building Construction TU Dresden.
Increased safety and building climate targets are also raising the demands on glass panels for window and façade applications, and with them usually the cross-sections and dead weight of the glass. However, materials research is advancing with giant strides – filigree designs and shapes that would have been unthinkable just a few years ago are suddenly made possible by thin glass as a building material. High-performance composite materials complement the range of glass building materials to specifically reduce resource consumption and environmental footprint or to adapt the technical properties of building materials to desired characteristics.
What is thin glass?
We all know thin glass already. However, in most cases not as a building material, but as high-tech glass for displays or touchscreens on smartphones and tablets. Thin glass is a chemically strengthened glass only 0.1 mm to 2 mm thick, which – after being tempered – is extremely robust and resistant to impact and scratches. Like conventional glass, it is resistant to environmental influences and, unlike plastics, does not yellow. Aspects that are also advantageous in architecture. The glass can usually be produced for architectural applications using the conventional float process, for example in the float glass production facility of glass manufacturer Guardian, where glass with a thickness of just 1 mm is produced (Guardian ExtraClear glass). Other manufacturers of thin glass products include Schott (Xensation), AGC (Falcon and Dragontrail) and Corning (Gorilla Glass). One disadvantage – or perhaps another advantage? – of thin glass is its flexibility or pliability. Conventional glass cannot simply be replaced by thin glass in common window or facade elements without additional stiffening or stabilization. Now resourceful scientists at universities and development departments of window and facade manufacturers are coming into play, taking advantage of the special properties of thin glass to use it to develop novel glass applications for architecture, such as curved or deformable glass panes and glass with additional technical functions.
Status quo thin glass application in architecture
Currently, super-thin and extra-light glass is already being used as the middle pane in triple insulating glazing to reduce its weight. Due to its high insulating properties, the use of triple insulating glazing has now become standard. However, as the size of the facade panels increases, regular triple glazing poses major challenges not only for installers but also for the fittings due to their heavy weights. An alternative is created by systems with thin glass, the technological development of which has progressed so far that they achieve, and in some cases even exceed, the required values for thermal insulation, energy transmittance and light transmittance. Companies such as Saint-Gobain Glassolution or Energy Glas GmbH were pioneers in this field and launched the first products on the market. To date, thin glass technology has also found use in solar thermal solar control windows made of thin glass (Erfis GmbH) or as blast-resistant thin glass (AGC Interpane), to name just a few.
Technical Outlook: Attack-resistant insulating glass
A novel combination of thin glass with polycarbonate has been developed at the Chair of Structural Engineering at the University of Siegen as a special safety glazing, whose weight per unit area is up to 72% lighter than common attack-resistant glasses. These laminated sheets consist of two outer thin glass panes and an inner polycarbonate layer, bonded by a thermoplastic polyurethane. Depending on requirements, they offer different properties, such as slim cross-sections, special insulating properties, low weight or high burglar resistance. Or even a combination of all the above aspects. For up to now, according to the researchers, there have still been technical challenges with special security glazing that also functions as insulating glass. The demand for such combined solutions is steadily increasing. One solution for the development of attack-resistant insulating glass is not only to increase the resistance of the outer layer – as has been common in the past for multiple-pane insulating glass with security requirements – but to secure all three layers against attack. In concrete terms, therefore, a three-pane insulating glass was developed consisting of two thin-glass polycarbonate laminated sheets with an attack-resistant function as the inner and outer panes and a thin glass as the middle pane. "Therefore, in the novel glazing structure, the attack-resistant effect is not only on one layer with a relatively large nominal thickness, but all the existing layers participate in the resistance to manual attack. By activating all layers for attack resistance for the first time, the triple-pane insulating glass achieves the highest resistance class P8B against manual attack as well as the current requirements for thermal insulation with a 15% slimmer and up to 50% lighter glazing structure," explains Dr. Thorsten Weimar from the Department of Structural Engineering at the University of Siegen.
Structure of a thin glass-polycarbonate composite panel consisting of 2 x 2.00 mm thin glass, 2 x 2.00 mm intermediate layer and 2.00 mm polycarbonate (left) and 2 x 0.85 mm thin glass, 2 x 2.00 mm intermediate layer and 2.00 mm polycarbonate (right). Photo: Chair of Structural Engineering, University of Siegen.
Testing with an axe to demonstrate resistance to manual attack for a thin glass-polycarbonate composite panel. Photo: Chair of Structural Engineering, University of Siegen.
Design Outlook: Curved, deformable and functionalized facade applications
Students and researchers at TU Delft and TU Dresden are currently working to expand the aesthetic potential of thin glass for facade design. Based on master's theses at TU Delft, creative ideas and prototypes for curved, deformable and functionalized façade applications were developed and are now being further researched at TU Dresden under the direction of Dr. Christian Louter, professor at the Institute of Building Design. Instead of seeing the pliability of thin glass panes as a disadvantage, the students took advantage of the possibility of cold bending and developed adaptive glass façade concepts that could adapt to weather conditions, for example. The varying curvature of the glass elements fulfills aesthetic criteria and also offers added value in terms of building technology, for example as part of the ventilation and air-conditioning concept or in order to optimally adapt façade-integrated photovoltaics to the position of the sun. In addition to initial ideas on how this adaptive curvature could be technically implemented – for example, using mechanical rail systems, wires with shape memory alloy or pneumatically operated air chamber elements – approaches have also already been developed on how a movable thin glass façade element can nevertheless guarantee the watertightness and airtightness of the outer shell when closed. Here, the students worked, among other things, with magnetic stiffeners or elastic fabrics, which are used to seal the curved sides of the glass.
Thin glass laminates with 3D printed cores
An equally aesthetically oriented development approach by TU Delft and TU Dresden is concerned with the development of lightweight laminated sheets of thin glass that are stiffened by an integrated core. In this way, deformations and vibrations of the thin glass can be avoided. For this purpose, a 3D-printed hollow core pattern is bonded to two thin glass outer layers in the space between the panes. In addition to different structures and materials for the core, different methods for bonding and lamination were also compared. The inner 3D-printed core tested included a honeycomb aramid structure, open-cell truss cores, or perforated, hyper-formed cores made of different materials and in different degrees of transparency. The goal was to optimize the structure of the core for weight reduction according to the force curve. "The thin glass composite panels allow very rigid yet very light façade glazing elements, which bring many advantages, such as material and weight reduction of the elements but related to this also a reduction of the substructure and the overall weight of the building. Installation is simplified by lighter elements and transport energy is reduced," describes Prof. Christian Louter. Head of the Institute of Building Construction at TU Dresden.
The future of structural glass engineering with thin glass
"Although glass is a comparatively old building material, there is still no end in sight in the field of research," predicts Prof. Jens Schneider of the Institute of Statics and Construction at TU Darmstadt. At the Glass Competence Center (GCC) located there, researchers are working on various key topics in glass technology, which are currently pointing in four directions: thinner, larger, thicker or 3D-printed. Scientists at the GCC also continue to search for new applications for thin glass in construction. "These could be, for example, windows that move in themselves, insulating and at the same time transparent facades, or pneumatically supported glass cushions," Schneider explains further.
At this point, the manufacturers come into play, who are now turning the multitude of ideas and possibilities from the university's basic research into concrete products and systems in their development departments. The technical and design possibilities sound promising, at least for now.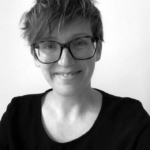 Bettina Sigmund
Specialist journalist with a focus on architecture and the construction industry and owner of "aboutarchitecture", an agency for architectural communication.