Like white and chrome, only better: black bathroom fittings
Fittings must always shine in chrome? Definitely no longer, because black bathroom fittings are currently very much in vogue. Although the classic chrome look is timeless, it can be found in 90% of all bathrooms. You think black is too dark, too hard and too sensitive to limescale? Don't worry, black in the bathroom is (still) unusual, but it can be combined surprisingly well and, in the right dose, creates a relaxed and, above all, cosy atmosphere. The black fittings on the washbasin are much more harmonious with wood than a shiny chrome tap, for example – and always more stylish.
Very easy to combine
Also the combination of a matt black shower fitting with tiles in stone look make a good impression. The tiles stand in an appealing contrast to the individually selected wooden elements and, together with the black accents and lovingly selected details, create a harmonious overall concept. More and more manufacturers of bathroom fittings are now also offering products in black – these include Keuco, Kludi, Grohe and Damixa. In Plan.One's product portfolio you have the possibility to filter products by colour and thus find the right product for your project in no time.
Whether the fittings, the walls, the floor, the bathtub, the shower system or small accents in the decoration of the bathroom are in black or you decide to place the colour over a large area – black in the bathroom always works. Finally, we have a few hints and tips that we would like to give you for your planning.
You should know that:
Balance black with enough light: Ideally, dark colours can be balanced with large, light windows that provide sufficient sunlight.
Choose wisely: It doesn't have to be all in black all around – set accents with black fittings and design your bathroom the way you like it best.
The care: When furnishing your bathroom in black, make sure that the surfaces are extra easy-care so that you do not have to deal with lime and dirt unnecessarily.
Repeat black: Combine a black floor, for example, with black soap dispensers, lights or towels for a harmonious overall concept.
Which black should it be? Not every black is the same, because matt black has a different effect than shiny black. Pure deep black is different from black with a blue, green or purple cast.
Better to paint than tile: Decide to paint if you are not 100% sure about your decision. In an emergency, a change is easier – better to repaint than to lay new tiles.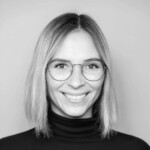 Celine Brand
Content marketing manager and social media expert for the construction industry.