Posted by Tim Westphal
on 19.03.2020
Live as you live and live as you like!
About moving in and out in the cities and municipalities
What determines whether a city, a village, a region is worth living in? Are there objective factors and parameters or a checklist that enables us to always build the right architecture in the right place? Probably not, if we move through German suburbs and look with open eyes over hunting fences and behind gabion walls. And we should definitely look further into the hinterland: it is harder than we thought to reconcile objective architectural quality and the individual needs of the residents. Yet there has always been something like a code of honour among architects: To combine technology and aesthetics, genius loci and the personal needs of clients and residents.
The city shapes the people. And vice versa
But back to the question of what makes a town or village worth living in. In recent decades, social scientists in particular have devoted themselves to the search for comprehensive answers. A study from 2014, which was published as Learning to distinguish cities is to be preserved. In it Martina Löw shows (TU Berlin) and Helmuth Berking (University Darmstadt), how people feel in the cities of Dortmund, Frankfurt, Birmingham and Glasgow. The answers are many and varied, but it is the history of the city, political and economic developments and the inhabitants themselves, some of which have had an impact for centuries, that shape the habitus of a city. It is understandable, for example, that long after the official end of the monarchy, courtly luxury production in cities such as Paris or Vienna continues to shape the mundane character of these cities to this day. Places like Duisburg or Eisenhüttenstadt in turn still stand for a grounded city with a proletarian habitus. And this is equally supported and adapted by its inhabitants.
So a simple solution for a happy and contented life would be to go (or stay, if you are already there) where the habitus and life of the city, the community and its inhabitants best suits your wishes and requirements. But it is not quite as simple as that. After all, factors such as the right job in the right place and at least as important are personal ties to family and friends and a functioning social environment.
Integration and adaptation
So what if a move to another city is necessary for professional reasons? How do you learn more about the logic of this city? Sociologist and publicist Brenda Strohmeier has examined this in an exemplary way in the German capital Berlin. Central for all new Berliners, she stated in her book How to learn to be a Berliner was the arrival in the city and the integration into the unusual, unique and complex Berlin everyday life. Adaptation and integration are important keys to quickly feeling at home – Darwinian rules of adaptation, which, incidentally, apply not only in the city but also in the country.
Efficient planning and construction
But what do these ways of acting and the personal confrontation with city, country and people mean for architecture and architects? Especially when more and more people are migrating and at the same time there is too little living space available? A phenomenon, by the way, that also cities in our neighbouring countries, for example Vienna. This is where building policy comes in as a decisive corrective: At current coalition agreement 1.5 million new dwellings are required in the Federal Republic of Germany by 2021. Completed in the full year 2018 only 295.800. In arithmetical terms, however, it would have to be 375,000 p.a. to achieve the government's goal. Efficient and faster planning thanks to digital planning methods such as BIM, targeted prefabrication and building with systems are gaining momentum, but cannot compensate for the missing more than 100,000 dwellings per year. A solution to this problem is possible with the current occupancy rate of tradesmen, for example in Berlin with 93%, not in sight.
Future-proof concepts – not only for metropolises
A solution to this problem lies in strengthening rural areas and supporting unconventional programmes to prevent further emigration. The ZEIT continued in an online-Feature deals with the numerous questions and also prejudices about "city dwellers" and "villagers". It should be noted that more than 70% of the German population live in towns and communities with fewer than 100,000 inhabitants. So if we only ever talk about metropolises such as Hamburg, Berlin, Frankfurt or Munich, we are talking about more than two thirds of the current figure of 83 million
Two examples that support this thesis are Montabaur and Hallstadt. Montabaur in Rhineland-Palatinate today has 14,000 inhabitants, and the number is still rising. Since the connection to the Cologne-Frankfurt ICE line in 2002 it goes uphill with the formerly sleepy little town. Investments in new infrastructure and the congestion-free connection to the metropolitan areas of Cologne and Frankfurt (only 30 minutes by ICE train) are paying off. The municipality is attractive for residents and companies, rents are low and the influx has been uninterrupted for years. In addition to the old town and the castle, which are worthy of protection, remarkable new architecture such as the Small Museum MarkenTurm.
The situation is similar in Hallstadt in Franconia. The community near Bamberg has done much to revitalise the town. Under the name "Neue Mitte Hallstadt" Among other things, the Marktscheune was built here, a multifunctional building that combines modern architecture with the historical building stock. The good 8,500 inhabitants accept the building and its new town centre. The commitment pays off and the project is attracting attention far beyond the region, as the award of the German Urban Development Award 2016 shows.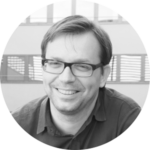 Tim Westphal
Author and industry expert, specialising in architectural journalism on topics requiring explanation and complex building stories.