Get rid of time-consuming product comparisons.
Quick product selection with Plan.One.
Who hasn't experienced it: you have found several suitable products for your building project, but at the latest when you are sampling in front of the builder, you are no longer sure how these products differ from each other. A detailed comparison would certainly be helpful. However, each manufacturer describes its products individually, so you have to laboriously gather relevant information from different manufacturers' websites. Then you try to compare the collected data in an Excel spreadsheet and quickly realize that the different product descriptions can hardly be brought to a common denominator.
Transparency through standardization
With Plan.One, this kind of product comparison is a thing of the past. At www.plan.one you can compare building products across manufacturers within seconds, and it's child's play.
Our product comparison is unique in the industry. The basis for this is our database, in which all manufacturer data is standardized. In all categories. Without exceptions.
Our full standardization allows you to call up this clear display for the products of your choice and share it with your customers and colleagues. You can even hide equal values if needed and see only the differences between the products being compared.
Compare with Plan.One: The arrows show you the way
All products listed on Plan.One can be easily compared with each other. On each product tile you will find a button with two opposite arrows, via which the respective product can be added to the comparison. You decide how many products you want to compare.
In the comparison overview, you can see at a glance whether the features you filtered before are met or not. This can be easily recognized by the green checkmarks, red crosses or grayed-out question marks next to the respective characteristic. If a property was not filtered in advance, there is no icon at this point.
You want to present your product comparison to a decision maker or save it for your documentation? Then simply download it as a PDF or as a CSV file. You can also choose whether you want to list your previously set filters in the download or not.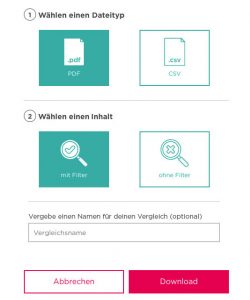 Create watch lists
Did you know that you can create personal watch lists on Plan.One and quickly and conveniently access your favorite products, product searches as well as product comparisons at a later time? All you need is a free account with Plan.One.
On all product tiles there is a button with a star below the compare button. Click this to add a product to an existing watchlist or to create a new watchlist. To assign a product search or comparison to a watchlist, also click on the star button above the product overview.
Share watch lists
Very practical: You can easily share your watch lists online with your Plan.One account. The recipient does not need his own account to view the content. Thus, sharing can be used universally and without restrictions – for example, for sampling with your builder.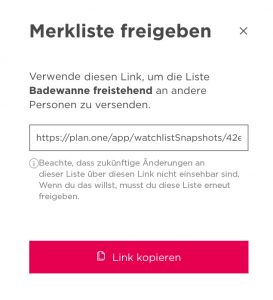 Your benefits at a glance
► First and foremost, our product comparison offers you a high level of time savings, which you can effectively invest in your projects.
► The function is very easy and intuitive to use.
► The clearly presented product data allows for quick yet informed decisions.
► The data generated from the comparison can be downloaded quickly so that they can be further used in your own workflow.
► With the help of your personal watch lists, you can even easily share your data with third parties directly from Plan.One.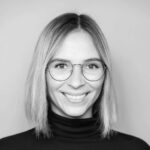 Celine Brand
Content marketing manager and social media expert for the construction industry.