Posted by Tim Westphal
08/12/2019
Planing consistently in digital form is much more than just BIM
Design-to-production creates description models for a digital process chain
Many architects and designers are now starting to look at 3D-based design or BIM. This is important. Because the adept use of digital planning tools and thus new collaborations between the planning partners create security for the economic future of an architecture and specialist planning office, regardless of its size. However, the necessary data quality for coordination between the trades and manufacturing cannot be achieved with these tools alone. This can only be achieved with new tools, which are not yet available at all.
Innovation requires consistently designed processe
For many years, architecture and planning offices have no longer used analog drawing boards and ink. But the introduction of CAD has so far made an insignificantly noticeable improvement to the labor-intensive processes involved in design, construction and building operations. People no longer draw with a pencil, but with a mouse. Let's take a look at what is happening at the planning level with the introduction of BIM: BIM also only digitizes learned analog work processes. An end-to-end digital planning method requires new workflows in the company's own office and in the coordination between those involved in the planning process.
So, BIM is a new approach to planning.
So far, BIM has been limited to "cleaning up" and improving traditional workflows in the planner's own day-to-day work. However, analog and proven processes digitally translated do not yet mean progress. Rather, profound (construction) innovation is developing from changed working and planning approaches that think digitally about a construction task and its planning and construction process from the outset and implement them stringently digitally. This is where the current implementation of BIM reaches its limits.
After all, the saying goes: Germany is digitizing. All sectors of the economy are deeply immersed in the many facets of digitization. At the same time, the national economy is doing well, and the construction industry is booming. The latter is now even a bigger economic force than the automotive sector and should thus become the innovation driver of a digital economy. The reality, however, is a different one.
Design-to-production: from design to building
Innovation within the construction industry is urgently needed. While the transformation in other sectors of the economy is progressing in leaps and bounds, the construction industry is missing out on productivity gains that it could have already achieved through a wide range of digital solutions in different disciplines. So far, for example, hardly anyone is working on planning and project realization that starts with digital design and continues digitally through detailing to (construction) production. In addition: New planning tools such as the BIM method are slow to reach offices. A change in thinking is still a long time coming.
This problem was recognized early on by Arnold Walz and Fabian Scheurer of "Design-to-Production". Both have been focusing on process chain continuity in their projects since 2007, programming data sets for design optimization and digital manufacturing. It is the interface between the design and its translation into production data, which has been missing until today, where international architects and manufacturers rely on the know-how of Design-to-Production: Their data models allow the derivation of production data, with the help of which digital manufacturing processes and laser cutters, CNC milling machines or assembly robots can be controlled.
A project implemented with the help of Design-to-Production: The new Visitor Center of the Dinosaur Park Kleinwelka near Bautzen. The object planned by rimpf Architektur und Generalplanung from Hamburg consists of three steel domes fused together and a covering of foil cushions. The original design plan could not be implemented due to the expressive building envelope and complex intersections. Design-to-Production remapped the intersections and each member of the structure and transferred this data for fabrication. An impossible task without digital tools.
Instead of the previously tendered structural steel details, Design-to-Production developed a node that took into account the different bar lengths and varying angles between the bars. In addition, the team created an overall parametric model of the load-bearing structure and building envelope, from which the production data for the entire dome with over 13,000 individual parts could be derived.
Another project Design-to-Production was involved in: the building envelope of the Intercontinental Davos hotel. Reminiscent of a spruce cone, the luxury hostel in the Swiss Alps was designed by Munich-based architecture firm Oikios.
Design-to-Production parameterized the hotel's facade and provided data for the production of over 62,000 fabricated steel facade components. Such elaborate building envelopes cannot be handled in a conventional manufacturing process with manually controlled machines. A detailed production plan and laser-cut individual elements with computerized manufacturing were therefore necessary. The parametrically controlled script that made this possible was provided by Design-to-Production. All specifications were implemented in the script and adopted by the façade manufacturer.
Automation creates more room for creativity
A major challenge for design-to-production is to repeatedly reconcile individual production requirements, for example for a complex facade, and fluctuating qualities of the planning data. To simplify this in the future, Design-to-Production is working intensively on a uniform digital description model. It is intended to provide the basis for further automation of planning and coordination processes within the construction industry.
In the architect's head, an idea forms into a first draft based on the room program. This includes, among other things, the wishes of his client, the user, structural, static and building physics requirements as well as the local framework conditions. There is a lot going on in the architect's brain, based on rules and dependencies. One of the biggest tasks for design-to-production right now is translating this individual way of thinking and working to create each design.
The creative part always remains an important qualitative component. However, certain requirements, parameters and dependencies are found in every project and every design. "If these requirements can be mapped and related via a digital description model, a big step has been taken towards a more productive digital design process," says Arnold Walz.
Designing and planning in new structures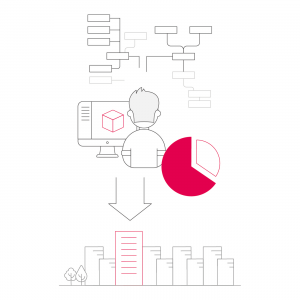 During the entire design process, the architect must take into account a plethora of requirements and parameters that lead to the built project. Many of the requirements placed on different buildings are similar or even the same. But on a day-to-day basis, they are re-examined, re-evaluated and re-assigned with each design. This costs the architect valuable time.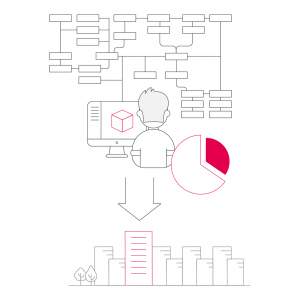 The wealth of fixed parameters such as spatial or functional references, technical standards or norms, and specific requirements on the part of the client or user can be mapped in a digital description model, which can be understood as the basis for numerous automation processes. Once the model has been created, adjustments can be made quickly. This saves the architect a lot of time, which he can use for creative work.

If the design idea is consistently translated on a model basis and transferred to production data, the component can be manufactured directly from the data. This is followed by transport to the construction site and installation. If the process chain is consistently set up digitally, this reduces the error rate on the construction site: The components are a perfect fit and meet the requirements.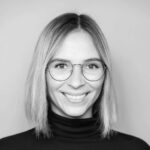 Celine Brand
Content marketing manager and social media expert for the construction industry.